For more information on user permissions, click here.
---
Standard Roadmaps
Roadmap vs. Account Fields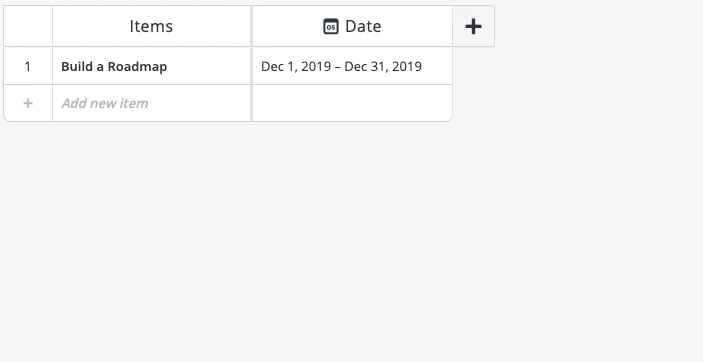 Roadmap Fields in Roadmunk belong to one specific roadmap on your account. This means the field is unique to that roadmap, which allows for greater granularity in your roadmap data without having to worry about cluttering up your team's field selection menus in their Roadmap and Items Table views. Roadmap fields can be promoted to Account Fields at any time, providing teams with the freedom to choose their
Account Fields in Roadmunk belong to the Roadmunk account and not to any one roadmap. This means the same field can be used by across all roadmaps on your account. Sharing fields across roadmaps not only avoids duplication, but also allows for consistency in field nomenclature and roadmap structure, which facilitates cross-roadmap alignment and, ultimately, alignment across your entire organization.
Importing Fields from a CSV
When importing items from a CSV document, existing Roadmap or Account Fields will be automatically mapped to matching fields in your CSV document. If there is no match found in the CSV, the Field will be imported as new Roadmap Field. System fields, such as items, description, date, and milestone type, will be mapped accordingly to the appropriate fields.
Defining and Reordering your Roadmap Headers
The default order of your roadmap headers is defined by the order of the field values in your field card, but this can be manually adjusted from the visualization if necessary. If you're looking to change the order of your header values to ensure your roadmap aligns with your team's vision and workflow, you can do so in two ways:
Drag & Drop the Values from the Roadmap Visualization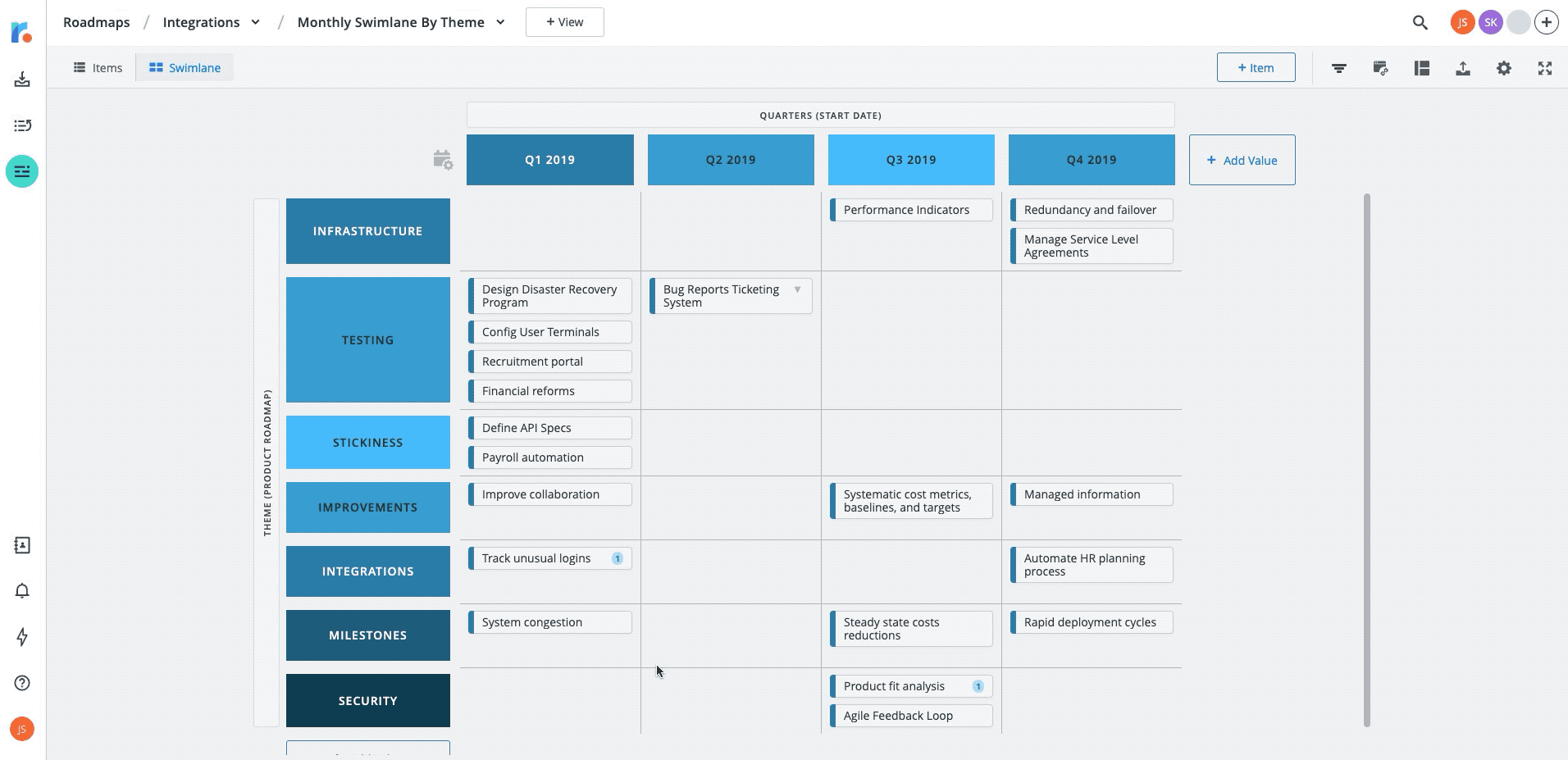 NOTE: You are unable to change the order of date fields; these will always be displayed in chronological order. Bucket order can be adjusted from the bucket card - learn how in our article on Working with Buckets.
Adjust the Default Order of Field Values in the Field Card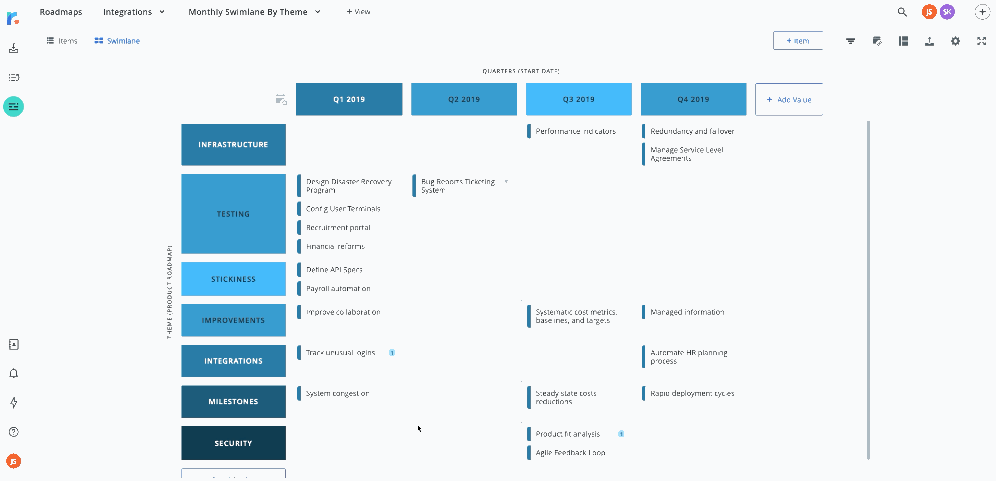 One thing to note is that the default order is only applied when the field is initially set as a header on the roadmap and is not dynamically updated to reflect the changes. To apply a new order to a field that has already been set as a header, you will need to swap the header values from the Format panel, then switch them back to your desired formatting
NOTE: While reordering header values can help prioritize values and customize your visualizations, please note that this is a global change. This means that any changes to the default order of field values, the names of field values, or ownership of that field will be carried over to all roadmaps currently using that field.
Updating Field Details in the Field Card
Field details and values, such as the field name, field values, and team members can be edited any time in the field card, which can be accessed through the drop-down menu in the field headers on your Items Table or by clicking into the fields shown in the folders on the All Fields menu. You can also view changes that have been made to the field through the Activity tab in your Field Card.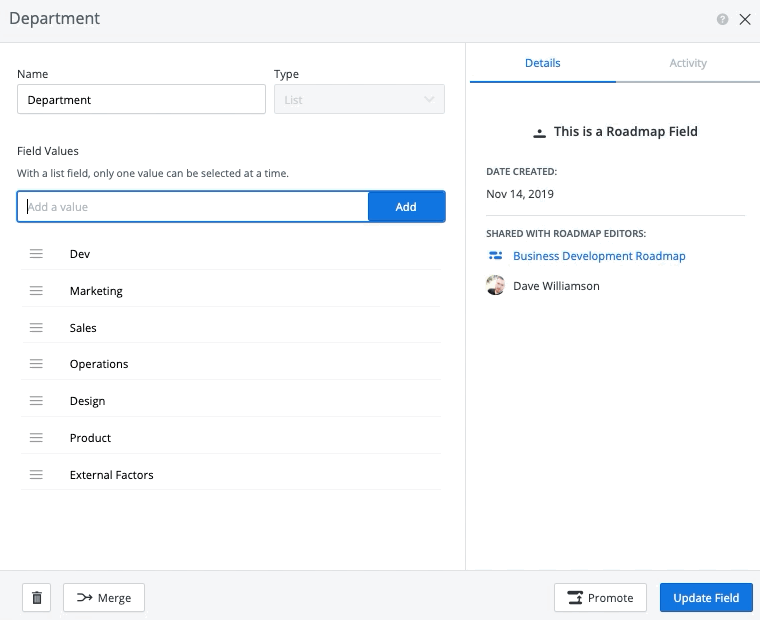 Updating Field Types
At this time, field types are static and cannot be converted into other field types. While certain field types can have their formats changed (e.g. a "Currency" field can be converted into a "Percentage" field, because technically they're various formats of a number field), there is currently no way to convert one field type to another.
---
Master Roadmaps
Exploring Common Fields & Account Fields in Masters
When pulling fields into Master Roadmaps, it is encouraged to pivot by Common Fields or Account Fields pulled from the Source Roadmaps. While Roadmap Fields are useful for providing more detail on the source roadmaps, the lack of commonality across multiple roadmaps can prove to make pivoting and sorting your data more complicated than necessary.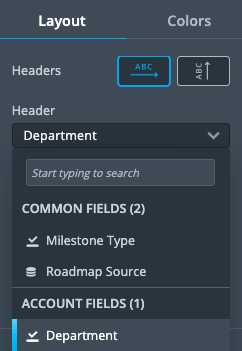 ---
Merging Fields & Suggested Merges
Merging Account Fields
In order to reduce clutter and prevent duplicate fields in your account, account admins are able to merge existing Account Fields with other Account and Roadmap Fields. Please note the specific criteria for a successful merge:
Users are only able to merge fields in which they are a member of

Field types of both fields must be the same

Fields must not be used in the same roadmap

Users are unable to merge two Roadmap fields
Suggested Merges
As an Account Admin, you can view field merges suggested by Roadmunk, and make the merges or dismiss them. Field merges allow you to get rid of duplicate fields and to merge potentially superfluous fields into Account fields.