For more details on available features in other plans, click here.
Importing & Exporting Sub-items as CSV
When exported to CSV, any roadmaps with child items will now contain a Child of field, which will allow you to easily view and edit the parent & child relationship between two items. As shown below, the items are unranked and child items can be assigned to the parent item regardless of where they are located in the CSV file. This means that you will be able to easily create and import sub-items to your roadmap without having to worry about reformatting your entire CSV every time you want to add another child item.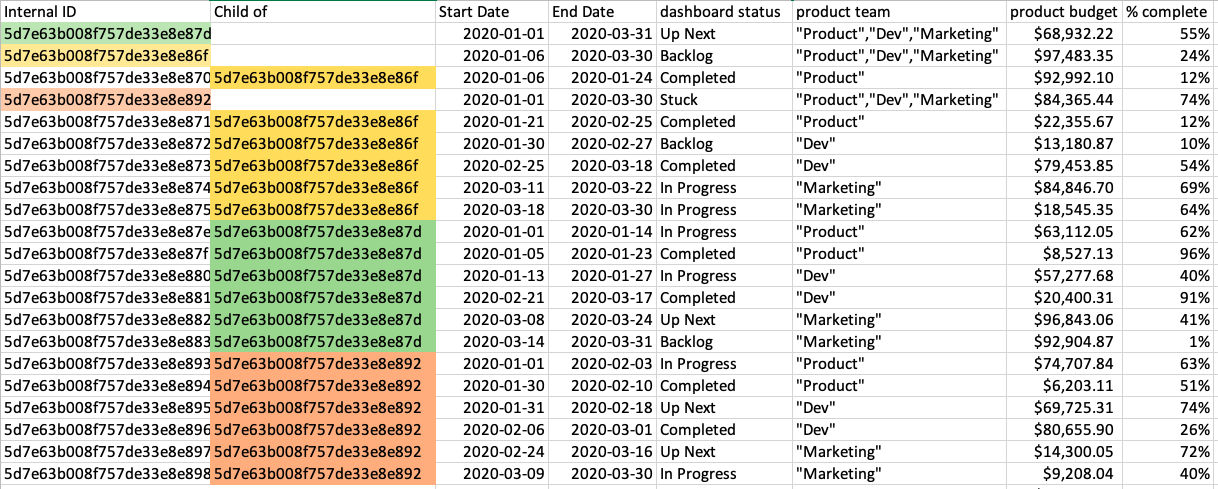 One thing to note is that Roadmunk will by default use the Internal ID field and Child of field to map the relationships between roadmap items when being imported from CSV; however, CSVs can still be prepared prior to creating the roadmap by using simple numbering instead of complex IDs to show the parent and child relationship between items, as shown in the screenshot below.

In this case, the system would use the External ID field instead of the Internal ID field to determine these relationships. This format will be acceptable for generating child items on your roadmap when importing for the first time, and will be automatically replaced by Internal IDs when you export the items back into a CSV at a future date.
Publishing Sub-items to HTML or URL
When publishing roadmaps using Sub-items to HTML or URL formats, users are able to create a boardroom-ready, fully-interactive experience for their recipients and stakeholders that can be navigated with ease and at their convenience.
The Timeline view will still display the Sub-items symbol on any parent item on your roadmap and the sub-items tooltip is available when you hover over that item. Inside the tooltip, you can click into any of the child items associated with that parent item and easily view the details on those items.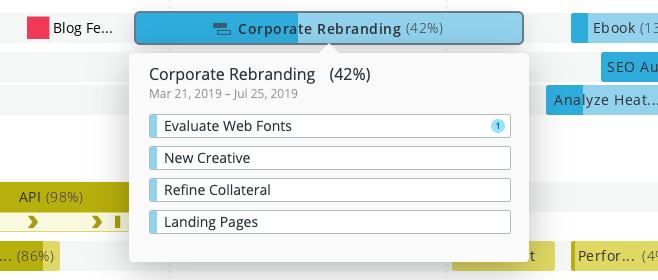 Exported Swimlane roadmaps have a similar overall experience to the timeline view; however, child items visibility is controlled by the user prior to the URL or HTML publication being made. Users can toggle this on the export by clicking the carat symbol in the top right corner of the item to hide or reveal the child items on a specific parent item.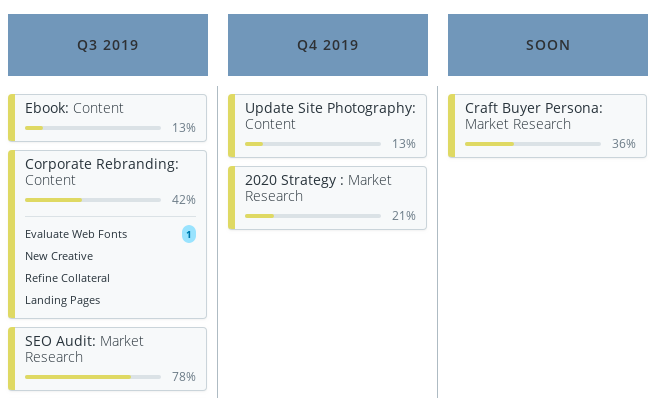 Publishing Sub-items to PNG
In the Timeline or Swimlane view, users are able to easily export a snapshot of their roadmap into a PNG format. While there have been no major changes to this export format, one thing to note is that you will not be able to view sub-items on the Timeline view when exporting to PNG, as the sub-items are only visible through the tooltip (available in the HTML & URL exports). Instead, users looking to show this information on their roadmaps are encouraged to publish their roadmaps in either a Swimlane view or in HTML/URL format.