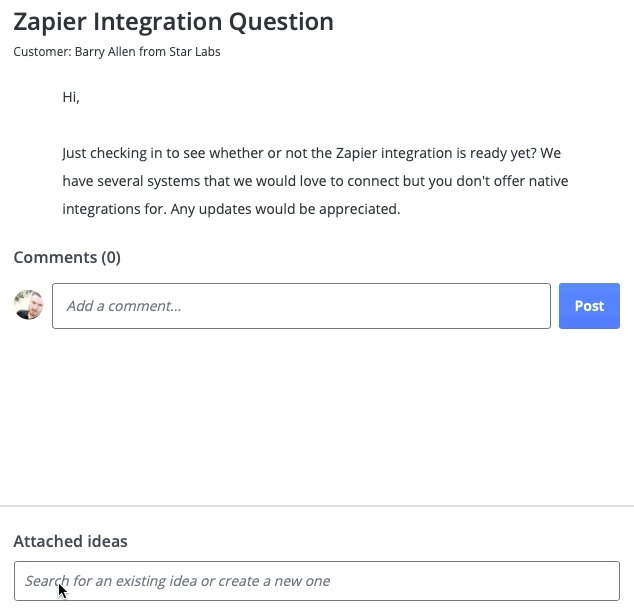 To better align teams on the reasoning behind your prioritization decisions for ideas and to ensure transparency into the feedback that helped to make those decisions, Roadmunk's Feedback module allows you to link submitted feedback to the ideas that your team is creating and prioritizing in the Ideas module.
To attach feedback to an idea or multiple ideas through the Feedback module in Roadmunk:
Navigate through the Feedback Inbox to locate the feedback you'd like to attach
Click into that piece of feedback to reveal the details panel on the right-hand side
Locate the Attached Ideas section at the bottom of the details panel
If the idea has already been created, start typing the name of the idea into the Attached Ideas field in order to locate the idea. Once an idea is selected it will automatically be linked to that piece of feedback and show how many other pieces of feedback are linked to that idea.
To create a new idea, start typing and select the + Create "_______" option. The Create a New Idea modal will appear and allow you to further specify the details on that idea before clicking Create in the bottom-right corner of the modal to create the idea and link the feedback to it.
Once a piece of feedback is attached to an idea, the feedback will be visible from inside that particular Idea Card in the Ideas module. Users can also navigate between the piece of feedback and the idea from the Attached Ideas section of the feedback details panel and the Attached Feedback section of the Idea Card, respectively. Users in the Ideas module can also see the date of feedback submission, the associated product or component, and whether or not the feedback has been flagged as important.
NOTE: Feedback cannot be removed from an idea once it has been attached. In order to break the attachment, you must first delete the attached idea from inside the Ideas module.