For more information on user permissions, click here.
You can post comments and mentions to a roadmap item using the Activity tab in the item card. You can also view comments posted by other users, and edit and delete comments you've posted.
To open the item card, click the item in a Timeline or Swimlane, or click the edit icon in the Items Table.
Posting a Comment on an Item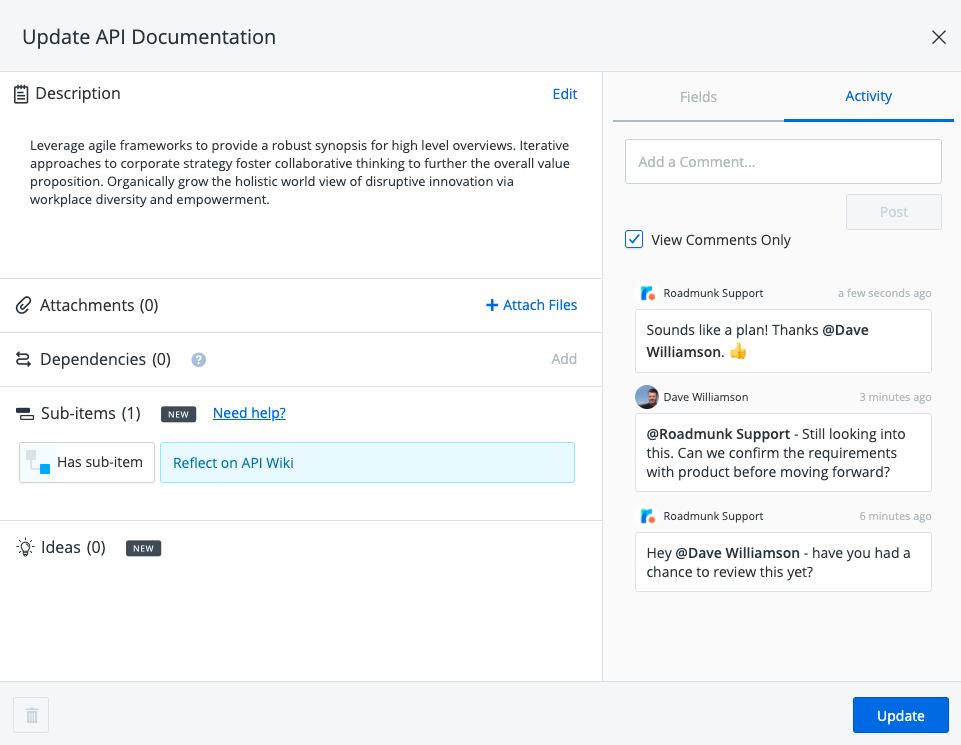 In the item card

Activity

tab, click inside the

Add a Comment

text box and type your comment.
To

mention

someone in the comment, enter @ and start typing their name. A popup with matching names appears for you to select the right one.
When you're done, click

Post.
Your post gets added to the item Activity Feed below, together with item activity and other comments. If your post contains a mention, the user gets an email notification.
Viewing, Editing and Deleting Comments
View an item's comments
Anyone with access to a roadmap can view comments and mentions posted to any of its items. If it's difficult to find and read comments in the feed, you can filter out item activity by selecting the View Comments Only checkbox.
Edit and delete your comments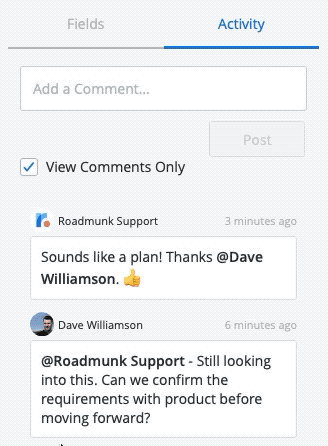 To edit your comments, click inside comment and make the changes.
Click the

Save

button to apply these changes to your comment.
To delete the comment, the

Delete option in the bottom-left corner.
Commenting Permissions
Anyone who has access to a roadmap can post comments to any of its items. That includes the roadmap Owner, and any other user who shares the roadmap either as an Editor or a Viewer. In other words, even if you have view-only access to a roadmap, you can still post comments and mentions to any of its items. For more details, see our article on managing user roles and permissions.