In this Article:
---
Connecting Roadmunk to Jira
For more information on user permissions, click here.
Connecting Jira in Roadmunk is a quick and painless process thanks to our one-time Jira setup wizard. In a few short steps, you will learn how to setup Jira with Roadmunk and be one step closer to bringing your backlog, epics, and stories to life with beautiful roadmap visualizations!
NOTE: To setup and configure Jira in Roadmunk, you must be an Account Admin.
To setup your Jira Server, follow these steps:
Navigate to the

Integrations tab

found in the

Account Settings

page
Click the

Add an Integration

button
Select

Jira

Software
Input your teams details including the

Jira Server Name and Jira Server URL
Click

Create Integration
Congratulations! You have successfully setup your Jira Server. It is now accessible to all Collaborators on your account.
Adding Two-Way Jira Integration to your Account
If required, users on Business plans can add two-way Jira Integration to their accounts. Only Account Admins can setup the add-on package on their team's account. Depending on the plan you have, you can either add the add-on manually or upgrade the entire account. For Professional and Enterprise plans, these advanced features are already included.
Adding the Add-On
If you are on a Business Plan, you can either add-on the Jira Integration or upgrade to a Professional plan.
On the

Roadmap

navbar, click the

Account

icon.
In the dropdown, select

Account Settings.
In the

Account Settings

dialog, click the

Billing

icon.
Check the

Jira Integration

box
Enter your payment information and click

Update.
NOTE: If you don't see the Billing icon in the dialog, you don't have Account Admin permissions. To add the Jira Integration, you must log in using an account that has an Account Admin user role.
Starter Plans
If you have a Starter plan, you can either upgrade to Business and add the add-on, or upgrade to a Professional or Enterprise account.
---
Integrating your Roadmap with Jira
For more information on user permissions, click here.
Now that you have successfully Connected Roadmunk to Jira, this article will show you how to synchronize your roadmap items with your Jira issues.
Tell Roadmunk how to Log In to Jira

To setup your roadmap integration, simply:
Open a roadmap.
Click on the

Integrate

button located at the top right of the screen.
In the dropdown, select

Setup Jira Integration.
Click

Next

to select your teams Jira Server. That's it! You have successfully setup your Jira Server.
Configure your Synchronization Setting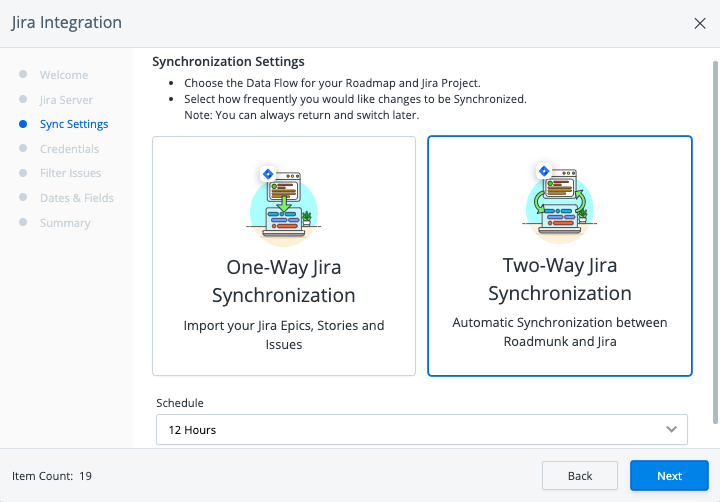 Choose to setup either a

One-Way

or

Two-Way Jira Synchronization. A one-way sync will let you import your Epics, Stories and Issues. A two way sync will let you automatically sync your Epics, Stories and Issues back and forth between Roadmunk and Jira.
From the

Schedule

dropdown, select how frequently you would like changes to be synchronized.
Click

Next.
Click the

Add Credentials

button to enter in your

Jira Username

and your API Token (Password for On-Prem Users).
Pulling In Issue Types and Statuses from Jira into Roadmunk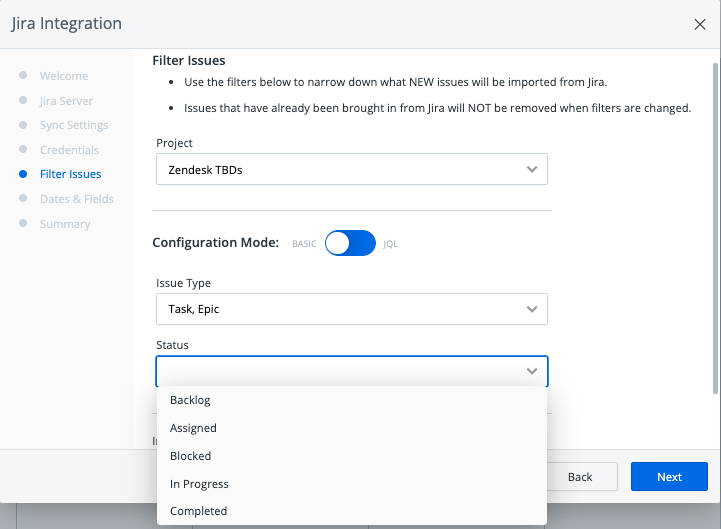 Select the

Jira Project

you want to bring into Roadmunk from the Project dropdown.
Select the Issue Type (Epic, Stories) that you want to bring into Roadmunk from the

Issue Type

dropdown.
Select the Status of the project.
Under

Import Issue History

you can choose if you want to import issues from the past year, 90 days, 30 days, or All Issues. Selecting Only Future Issues will only import issues into your roadmap created after today.
Click

Next.
Tip: Use the item counter in the bottom left as a guide. Larger item counts will take longer to sync. Start small and add more items as you see fit.
Next, you will be able to select how you would like Jira Relationships to be displayed.
Choose Whether to View Item Links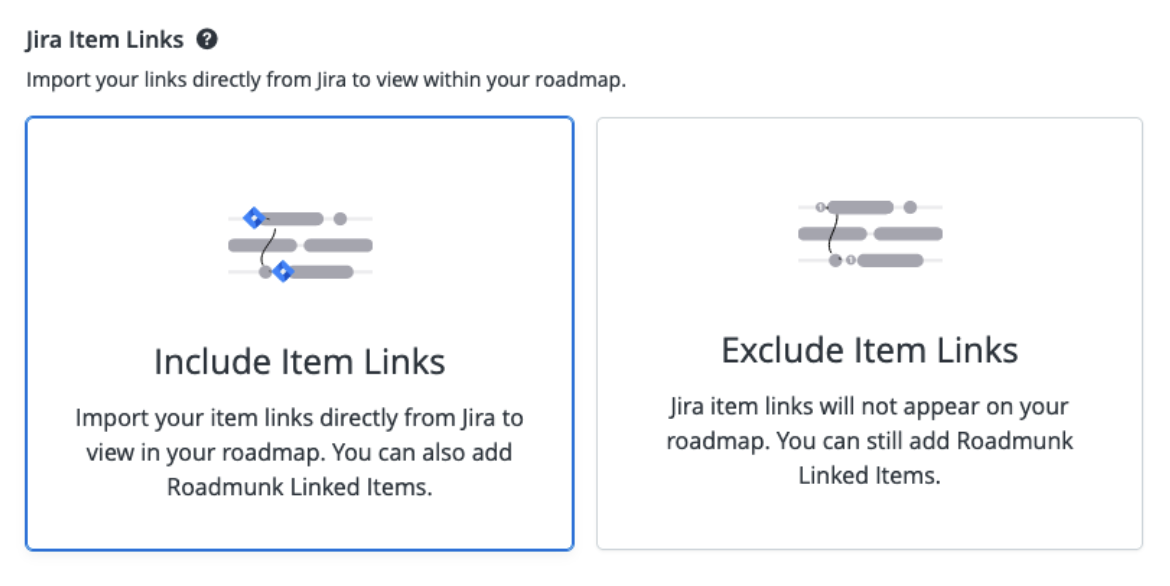 In order to better visualize your data, users are able to select whether or not they would like their item links displayed in Roadmunk. These links represent the relationships that have been given to your issues in Jira and can be toggled during this screen or from your Modify Setup window after.
Next, you will be able to select the fields that you want to synchronize to your roadmap.
Map Dates and Sync Fields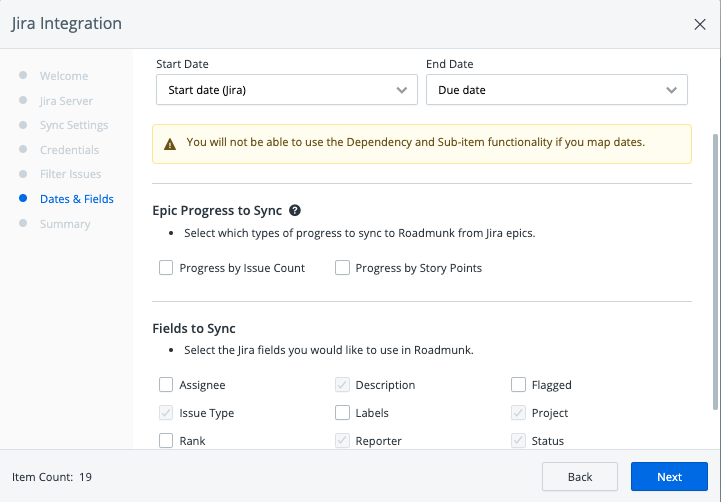 Under

Dates to Map, you can select the Jira dates that you would like to map to Roadmunk.
Under

Fields to Sync, select the Jira fields that you would like to synchronize to Roadmunk.
Click

Next.
Click Finish to complete the setup process.
Issues Connecting?
If you're having trouble connecting to your Jira Server, your IT team may need to add Roadmunk's IP addresses to a whitelist. If the issue persists, please consult our troubleshooting guide or connect with our support team.
Modifying Jira Integration Setup
Once the initial integration setup is complete, the roadmap owner will be able to modify the setup at any time. To do so, from the Items Table or in a roadmap visualization, simply click the Jira button in the top right-hand corner and select "Modify Setup" from the drop-down menu. This will open the integration setup menu and you can alter sync settings, credentials, filter issues, and dates & fields.